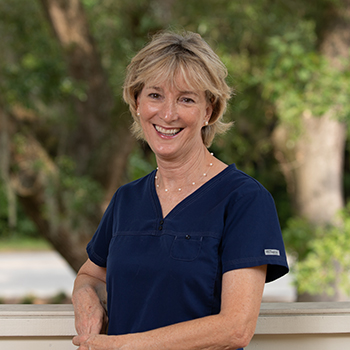 Cynthia
Registered Dental Hygienist
I love helping my patients have a healthy mouth and smile. When I clean their teeth, I try to be gentle, and am always attentive to their comfort. As a hygienist, I educate patients on oral health, offer scaling and root planing, and floss and polish teeth.
I started working the dental field in 1982, as an assistant, and have an AS in Dental Assisting as well as a BS from the Medical University of South Carolina. In 2013 I joined the Goolsby Family Dentistry team and couldn't be happier. Dr. Goolsby is an excellent, compassionate dentist and he and the team are driven to provide the best care to our patients.
Outside of work, I enjoy photography, writing stories, bike riding and running, and – most of all – time with my husband, Bob. We've "adopted" a Citadel Cadet; he lives with us on the weekend. I'm active in my church, where I facilitate a Women's Bible Study, and am a member of my Church Council. I volunteer for Tri-County Family Ministries and Historical and Preservation Historical Tours, too.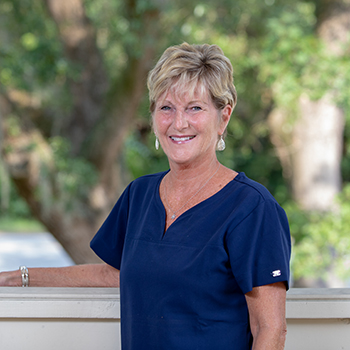 Kathy
Scheduling Coordinator
I love working with our patients and getting to know each on a personal level. I welcome everyone with a smile, check patients in, update their records, and schedule future visits. I also verify insurance benefits, accept payments, and handle a range of other administrative duties. My top priority is making sure each person feels welcome, comfortable, and at home in our office.
I started in the dental field in 1977 and found my professional home and family with Dr. Goolsby and the team in 2003. I love working with talented, caring people, and seeing how our patients feel reassured and safe in our care.
I've lived in Charleston for more than 20 years. Outside of work I enjoy being with my two adult children and five grandchildren. I also like swimming and various water activities, gardening, reading, sewing, and many church activities.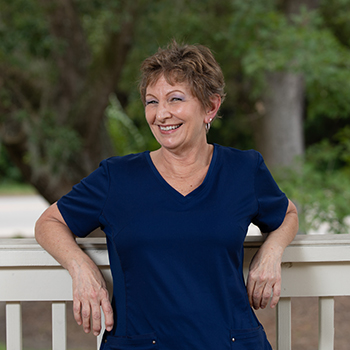 Linda
Dental Hygienist
I love meeting people. My patients become my friends and each feels like an extension of my family. I help people with their dental concerns and educate them so they achieve and maintain excellent dental health.
I graduated in 2000 with my AAS degree, and initially worked as a Dental Assistant before I became a Dental Hygienist. I am also a Licensed Massage Therapist and Phlebotomy Technician. In 2011 I joined this welcoming and friendly office, where Dr. Goolsby and my coworkers work hard to relieve patients' anxieties. We all support and encourage each other as we provide the best dental care.
I moved to South Carolina from upstate New York in 2006. I love all that South Carolina offers and enjoy being near the mountains and the ocean. Outside the office I treasure time with my two grown children and four grandchildren. I also like hiking, kayaking, biking, and love exploring and doing as much as I can, from new restaurants to zip lines.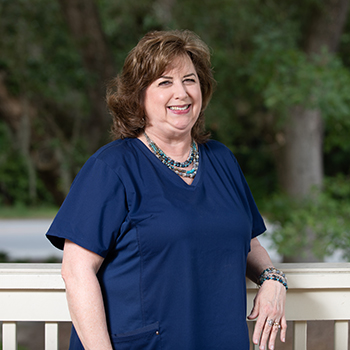 Sue
Business Administrator
It is my privilege to help patients achieve optimal dental care with creative financing and affordability. I serve as a liaison between staff, insurance carriers, and patients. My continued goal is to resolve all concerns, maintain positive yet fun working relationships, and ensure excellent patient care, all with financial success for the practice. As the Business Administrator, my duties include but are not limited to: reviewing patient accounts and determining appropriate billing distributions; processing statements; and maintaining accounts receivables.
I have been in the dental field since 1986. I have an AB degree and have completed numerous continuing education courses in dentistry and office management, too. I am happy to be part of Goolsby Family Dentistry and most enjoy the relationships that have evolved into friendships over the years. It is an honor to be part of such an amazing dental family, from staff to patients!
My husband and I have been married since 1981. We have been blessed with a son and a daughter, plus a four-legged son, who happens to be a cat named Puff. Family is everything to me, especially when we are all together. I enjoy singing (especially harmonizing), playing the piano, reading, watching Hallmark shows, and old movies. I am actively involved with SeaCoast Church and in our community, too.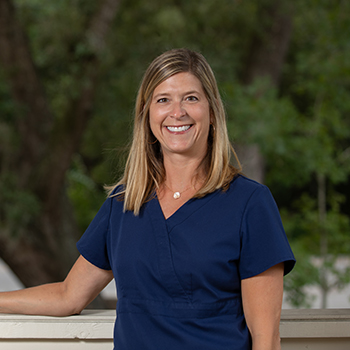 Tiffany
Dental Hygienist
I value the relationships I have with our patients and appreciate being able to help each of them. I strive to motivate people to improve their smiles and achieve optimum oral health through comprehensive dental exams, X-rays, and performing the correct levels of cleaning to fit their needs.
My passion for dentistry comes from my father who is an orthodontist. I completed an Associate degree from The Ohio State University at Lima and have worked in the field since 1994. Being part of Goolsby Family Dentistry is like being part of a family. We all work well together and work toward the same goal: to treat each patient individually and customize their dental care for healthy and beautiful smiles.
My home life revolves around my husband, our teenage son, and our dog, Cooper. I enjoy the outdoors, beach life, bike riding, traveling, cooking, reading, and watching our son play baseball.